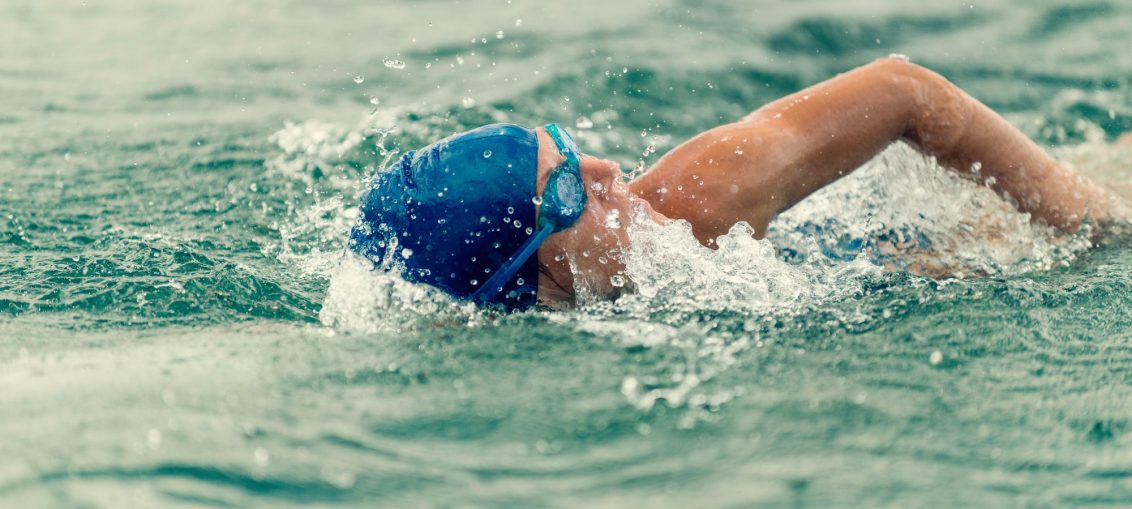 You hear a gunshot, and you experience a sudden rush of adrenaline. Water splashes all around you, and you take off like a sailboat on the open sea.
You are now officially an open water swimmer.
You've spent hours in the pool, but in competition, engaging in open water swimming as part of a competition is an entirely different animal.
The question is, are you ready for it?
If you fail to train properly for open water swimming, you could easily become injured, with shoulder injuries being the most common injuries among swimmers.
The worst-case scenario? You could put your very own life at risk.
Research shows that the number of drownings in open water has increased over the years. Forty-three percent of drownings take place in ponds, rivers, lakes, and oceans, whereas 38% occur in pools.
So, in light of the above, here are a few practical tips for having a safe and comfortable open water swimming experience.
Let's jump in!
Choose the Right Goggles for Open Water Swimming
Goggles come in various sizes, shapes, and colors, so selecting the right one may understandably be overwhelming.
However, as a general rule of thumb, you should base your goggle choice on how the weather is expected to be on swimming day.
For instance, on a rainy or cloudy day, you may want to wear goggles featuring yellow, clear or light blue lenses. That's because these hues will help to brighten your surroundings so that you can see more easily.
Meanwhile, let's say the day is sunny and bright, or perhaps you're swimming during the morning hours when the sun will start to rise. Smoke or mirrored lenses will likely work best for you.
Also, you might want to bring spare goggles to each of your races or whenever you decide to go swimming, just in case the band of your main goggles snaps and you need a backup right away.
Don't Forget Your Wetsuit
In addition to purchasing goggles, it may be worth your while to spring for a wetsuit as well.
A wetsuit will help you to stay warm but also provide you with buoyancy. In other words, it'll help you to stay on the water's surface and thus make it easier for you to swim.
While shopping for triathlon wetsuits, you'll likely come across both a sleeveless kind and a full kind.
The full ones are a tad pricier, but they offer the most buoyancy. Of course, they'll also keep you feeling warmer.
Sleeveless wetsuits are more appropriate for the life-long swimmer, as he or she may not necessarily need extra buoyancy. A sleeveless suit offers the benefit of keeping your shoulders and arms from feeling restricted.
Whichever kind of wetsuit you choose — although full ones are best for beginners — be sure to use it a handful of times prior to race day. This will help you to make sure that your chosen suit fits you and feels comfortable on you.
Be Sure to Warm Up
This is a critical step to take before swimming. Between 10 and 15 minutes is an ideal amount of time for you to become acclimated to the water and warm up.
The more you warm yourself up, the more your blood will flow and get your body ready to swim. Plus, you can become more comfortable with the water in which you'll be competing.
In addition to wading a bit and walking around the water slowly, take a look underneath the water to see how clear or murky it is. All of this will help you to feel much more confident when it's time to start swimming.
Put Yourself in the Right Position
Let's say you're a relatively strong swimmer. In this situation, it may behoove you to position yourself at the center and in front of the pack.
Meanwhile, if you're not the strongest swimmer, you may want to stick with the back or stay on the side.
As soon as you hear the gunshot on race day, focus on reaching clear water.
Also, it's okay if faster swimmers pass you up. Focus on going from one stroke to the next, staying within your little bubble on the open water.
A mistake that many swimmers make is that they start to swim much too quickly once they hear the gun go off. By the time they reach 200 yards out, their heart rates have soared, and they can't help but gasp for air.
So, remember to start out at a slow pace. Then, gradually boost your speed once you find yourself in a nice rhythm. If you do this, your entire swimming experience will be more positive, and you will finish strong.
Practice, and Practice Some More
Like everything else in life, the more you practice open water swimming, the better you'll get at it. And the better you become, the more comfortable and confident you'll feel.
Frequency is critical.
If you can easily access an area where you can do open swimming regularly, take full advantage of this. If you don't have a water body in your area, search for open water clinics that an organization in your local area may host.
You could even get together with a few friends to visit a nearby pond, river, lake or ocean, and use these trips to practice as much as possible.
Whatever you do, do not ever swim by yourself.
How We Can Help
In addition to offering guidance on open water swimming, we offer a number of other tips and advice related to health and fitness.
For instance, through our site, you can find out about the yoga poses you can perform to start your day off with as much energy as possible.
We also offer tips on how to increase your mobility and strength, as well as how to become fit for basketball. You can even find out how to compete in a triathlon even if you suffer from asthma.
Take a peek here to find out more about how to improve your health by working out in the most effective manner possible. With our help, you can be well on your way to experiencing an improved quality of life long term.