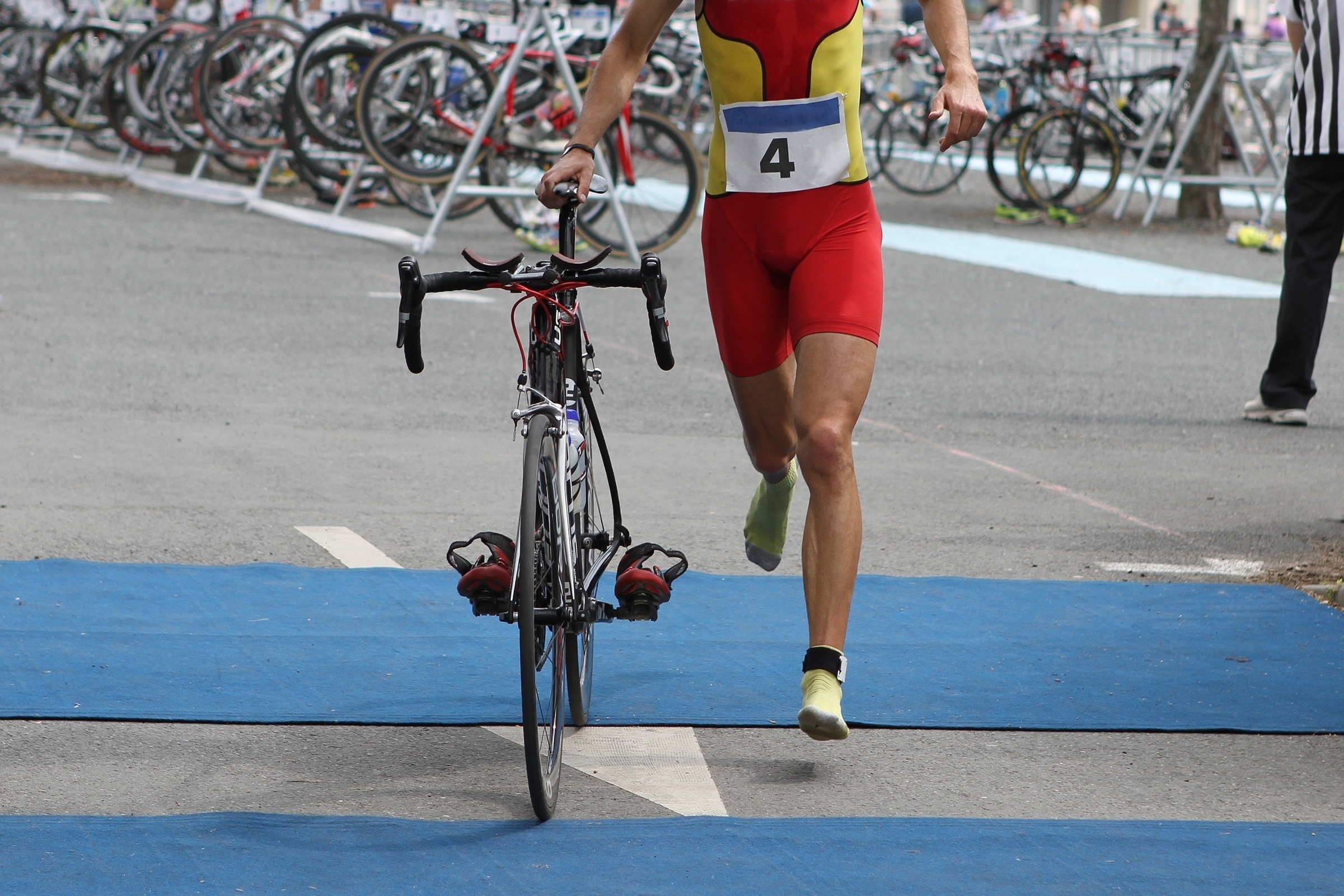 As you probably know, triathletes and cyclists have different training regiments, different goals, and different shoe needs. With the "clipless" pedal system that's become standard in the last 30 years, triathlon bike shoes have changed from previous standards of road-specific shoes.
Finding the right fit for your body that you can transition in and out of easily can make the difference between winning and losing. Any great triathlon shoe should excel at pedaling performance and transition.
If you're looking for the perfect bike shoe for that perfect triathlon, here are the 10 best bike shoes on the market that will give you the edge on your competition.
1. Shimano TR5
This Shimano model of triathlon cycling shoe is meant as an update to its previous entry-level TR32. The aim is to improve on the upstroke with it's patented "Dynalast" technology.
It also features an off-center loop that's easy to grab. It's comparable to the popular TR9 but includes two-bolt compatibility for double-sided pedal users.
2. Bont Zero+
With its strange golf-ball texture and uber minimalist design, these shoes look deceptively simple. While it appears as if they have next to no support, you'll find the power transfer they allow is second-to-none.
The arch support is stiff, which might not be for everyone, ends up keeping your knees in line.
They take an extra second or two to take off and put on for their lack of loops. If a natural foot shape is what's going to help you win the race, you might find these are the shoes for you.
3. Specialized Trivent SC
You'll be surprised the kind of power transfer and comfort you'll get from these cycling shoes even without socks. The main strap is tight and stays out of the way while riding.
Despite the comfortable inner, you might find they're too rigid for your tastes. This "short-course" shoe has a lot of punch in a small package and could be perfect for harder-to-please riders.
4. Louis Garneau X-Lite II
Louis Garneau makes bold leaps in triathlon bike shoes with every release.
This latest model feels rigid and firm where last year's version felt as light as a sock. But a redesigned heel has improved pedaling power.
They're nicely ventilated and even feature reflective materials for those late night triathletes. The sizable straps stay out of the way and the loops are as easy to grab as ever.
5. Pearl Izumi Tri Fly Elite V6
The 5mm stack on this Pearl Izumi release seems low but offers a supportive insole that is easy on the arch. If you're an aggressive rider, the carbon sole is going to make sure you're adequately taken care of.
That low height will give you maximum pedaling efficiency. With no tongue and an exterior fastener, these will be surprisingly easy to slip in and out of with no problem.
6. Scott Tri Carbon
If you're done with straps and clips, the Boa dial on these Scott Tri Carbon triathlon bike shoes might be perfect for you.
The rigid leather construction is perfect for long rides. These are surprisingly comfortable as the insole bends to the arch of your foot.
7. Fizik Triathlon Cycling Shoes
Shoes from Fizik feature sail cloth velcro belts built in a cool Italian style. Even with their rigid look, these shoes are a lot lighter than they appear at first.
They have a tall heel for extra support and a soft tongue for added comfort on your upstrokes while pedaling.
In spite of being some of the most stylish triathlon bike shoes on the market, Fizik shoes sacrifice nothing in performance.
8. Shimano Unisex SH-TR900
This Unisex shoe from Shimano goes above and beyond in style and function. They're sure to stay secure during a triathlon with dual hook and loop enclosures.
As might be obvious, they fit Shimano pedals perfectly. Although they come with a hefty price tag, their breathability and lightness might make them the perfect fit for a hard pedaling rider.
Get them fitted with a cleat for an added bonus.
9. Giro Inciter Tri
No, you're not imagining things. The latest release from Giro is almost identical to their last release. They've got two-bolt and three-bolt compatibility options and remain as versatile as ever.
The only downside, which could have been fixed in this release, is the flimsiness of the loop. There's too high of a chance you might have trouble grabbing it in the midst of a race for this to be your clutch time shoe.
But as a training or every day biking shoe, they're pretty solid for the price and if you're transitioning from running to biking, these will give you the feel of being in a running shoe.
10. Northwave Tribute
If you use Speedplay pedals, you're going to love the Northwave Tribute shoes which use their plate as a standard.
These are a great choice if the stiffness of the Pearl Izumis is too much for you. A unique design with velcro panels also keep the straps open while you're transitioning. Not totally essential but could be convenient for some riders.
The Northwave Tribute shoes have supple leather and shape around your feet nicely if you need a more custom feel to your triathlon bike shoes.
Triathlon Bike Shoes for Every Taste
This latest batch of triathlon bike shoes offers something for everyone. If comfort and style are important, there are some great cuts and colors available. Should you prefer something that excels in performance and power transfer, pricier styles are available.
If you're new to triathlon, remember that on a long day of riding, your feet might swell and could make transitioning painful and uncomfortable. Finding the right pair of shoes isn't just for the professional triathlete but is essential to even the casual newbie. Don't let bad health and discomfort get in the way of your training.
Stay updated with the latest trends in triathlon fitness, training and lifestyle by staying tuned to our blog.