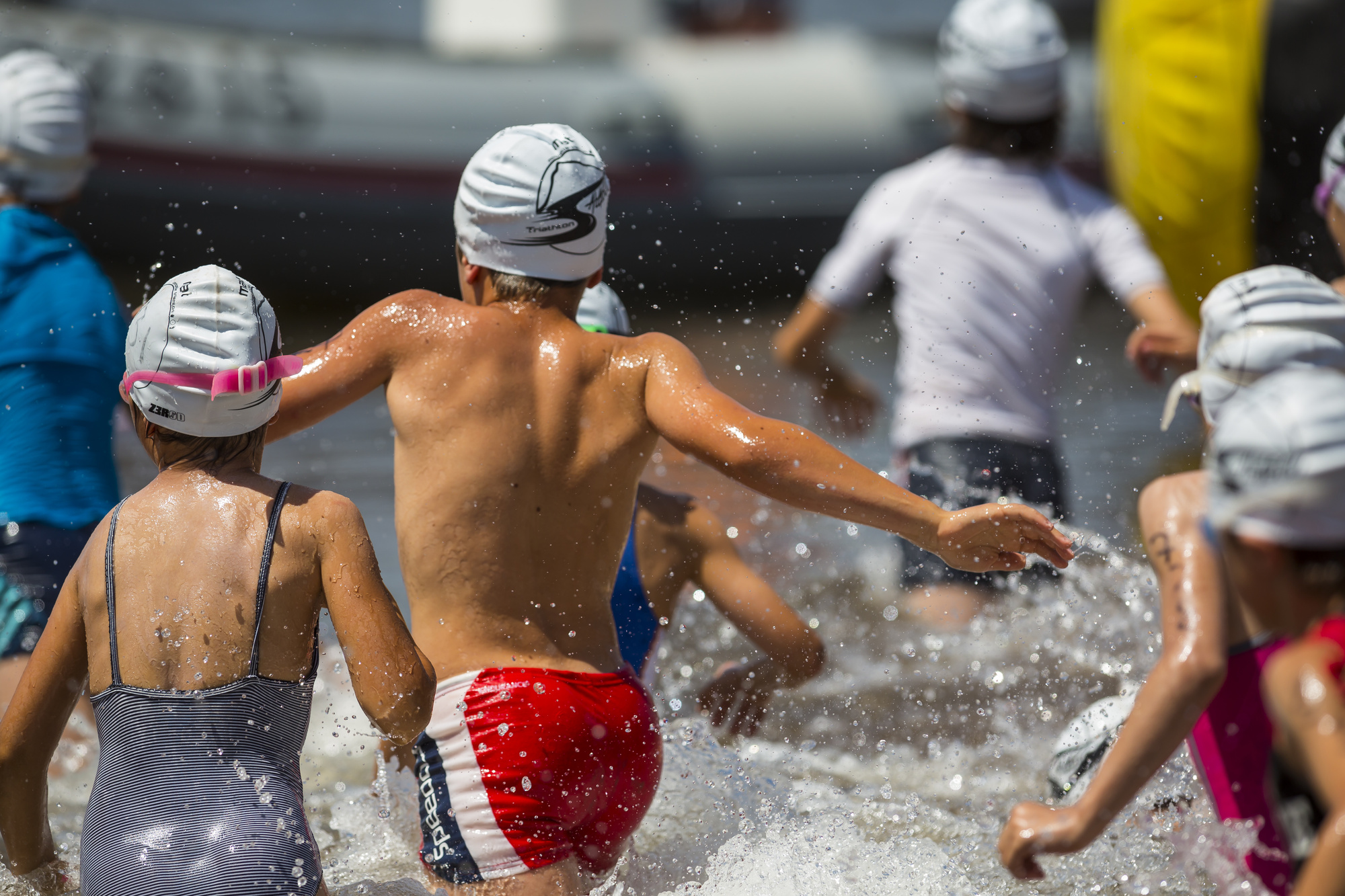 With almost 25,000 triathletes under the age of 18 (and growing!), kids triathlons are hugely popular in the United States. 
And why shouldn't they be? These fun events bring families together and encourage good sportsmanship in kids. If your kid can bike, run, and swim, she or he can be a triathlete.
In order to inspire a love of athletics and a passion for fitness and stamina at a young age, here's how you can organize a kids triathlon in your community.
Organizing A Kids Triathlon
The requirements other than energy and a good attitude are minimal. USA Triathlon says your children should be able to bike for 20 minutes and swim four laps in a pool. That's all it takes for a kid to be successful at a triathlon.
Pick A Site and Date
Choose a site for your kids triathlon race. This could be the most difficult part, as you'll need to select an area that has a lap pool and a place to bike. Schools or community centers are a good first shot!
Pick a date for your event, and secure your reservation. Make sure to find out if you need an event permit from your city or town. Pick one long enough in the future that kids feel like they have time to train.
Make Some Decisions
Will your triathlon be for older kids? Younger kids? All ages?
And will you have teams, or will each kid be an individual participant?
What kids triathlon equipment will you have? Do people need to bring their own water, towels, and bikes? Will you have numbered runner's bibs?
Have some fun answering these questions! Survey likely participants or ask other interested parents to help you define these parameters. 
Promote It!
Use traditional media, school, e-mail lists, or social media to promote your event.
Make easily sharable flyers and come up with a design or logo for your triathlon. It doesn't have to be fancy – just something that will look good on shirts, swag, and – most importantly – your runner's medallions, which you can get from Trophies Plus Medals.
Work the Transitions
The most difficult part of organizing the race will be figuring out how to transition between events. Will kids jump out of the pool and straight onto the track? Where will kids ditch their bikes?
Knowing the rules of your event location is imperative. And recruiting a small staff of parents or volunteers will also be necessary for the transition moments. 
Encourage Group Training
If you have a safe public space that doesn't require a reservation – like a park or school track – you can host informal get-togethers to encourage kids to "train." In reality, it's not that difficult to prepare a child for a kids triathlon. But group training encourages good sportsmanship and pro-social behaviors.
You can also host fun activity-based games for little kids that might not ride bikes or swim yet. Three-legged races, balloon relays, and egg-on-a-spoon races are all fun for the little ones!
Emphasize Completion, Not Competition
The most important thing about your event is that everyone has fun! Encourage kids to complete your event, and reward them all for doing so. 
And don't forget to check out our training resources for triathlon kids!