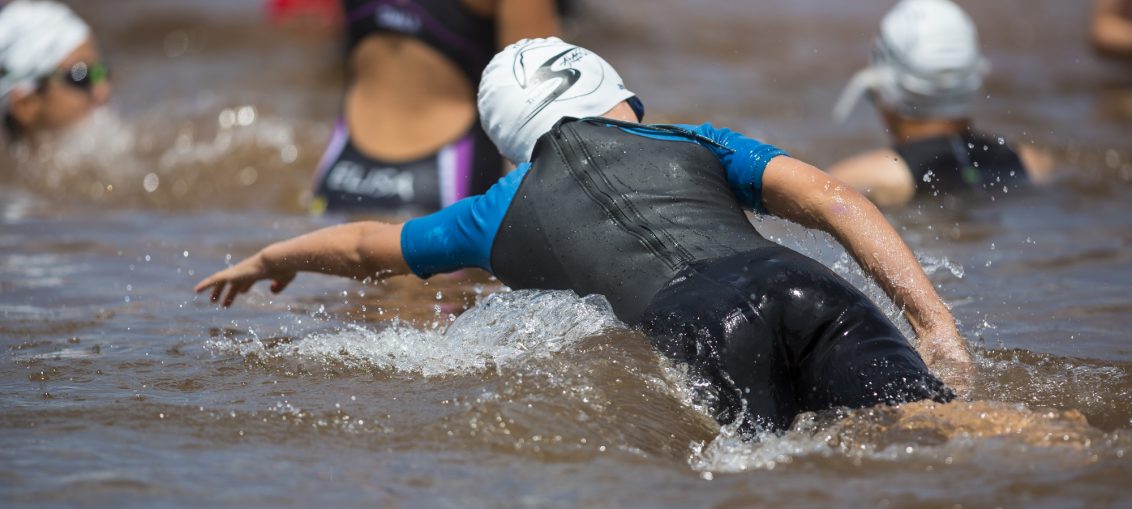 The 2000 Olympic Games in Sydney, Australia was the first time triathlons debuted as an international sport. It didn't take long for the sport to gain a big fan base and following.
Several years later triathletes and the triathlon community realized a need and desire for kids triathlon events. Today almost every state in the US offers a pint-sized event of some kind.
Keep reading to find out how to foster a love of the sport in your kids. Learn how to keep them interested by focusing on completion over competition.
Kids Triathlon: What to Expect
The organizers of triathlons for children all have the same goal. To pique the younger generation's interest in this compelling sport. For that reason, the race distances are enough to be challenging, but reasonable enough for first-timers to complete.
According to USA Triathlon: "Plain and simple, if your child can swim 4 laps in a pool and ride their bike for 20 minutes without stopping, they can successfully complete a kids triathlon."
To make your child's triathlon experience memorable and fun the key is preparedness. Follow these suggestions for a smooth race day:
Full water bottle(s)
Race number already pinned on a shirt
Two towels: one for to sit on while changing in transition area, one for after the race
Post-race clothing
Pro Tip: Avoid debuting anything new (shoes, outfits, swimwear, or equipment) on race day. It often results in a discomfort disaster.
Triathlon Training: Leg-by-Leg
As with any sport, especially if a child is new to it, start training in manageable chunks. Gradually increase the distances and duration as your child becomes comfortable completing set goals.
Eventually, as a child's skills develop, and as race day gets closer, a training schedule may consist of:
Swim training 2 days a week
Run training 2 days a week
Bike training once a week
Once a child is comfortable in the 3 different activities it's a good idea to start combining activities. Children begin to understand the concepts of endurance and pacing when they break into a run right after finishing a swim.
Here are some suggestions for creating a training program built for any level of ability.
Swimming Leg
Most experts agree (and you know this fact to be true if you're a triathlete) that the area requiring the most focus is swimming. Most kids can ride a bike, and they all can run. A lack of strong swimming ability adds a level of stress to the entire experience.
Swimming is the one area that triathlon organizers recommend looking into guidance from a swim coach. enrolling your child in a swim club not only develops correct swim form, it offers many other benefits outside the pool.
Biking Leg
Probably the easiest leg and the easiest to train for is the bike portion. But even this should be approached gradually.
Begin with easy bike rides. Start with half the event distance and progressively increase the time and distance the child rides. Most triathlon competitions for kids have a bike distance of 4 miles. This is reduced to around 2 miles for younger kiddos.
Running Leg
It's important to keep in mind that young developing bodies are not meant to run long distances like adults. The structure of their body not built for exercises fixed in one plane of motion.
This is a heated debate among some circles. But many experts agree (based on research) that kids under the age of 18 should not train for long-distance running, such as a marathon.
Because all children develop t a different pace it's necessary to monitor their running closely. Some will be able to increase their distance at regular intervals. Others may hit a plateau.
The best answer for this is to have your child walk after reaching their maximum distance. Eventually, they run past their set end mark, running more, walking less.
The best advice for parents is to listen to your child. If they tell you they are hurt or feel an injury the safest thing to do is allow them to rest.
Prepping for Your First Kids Triathlon
There are three areas your child should be completely comfortable with before stepping onto the course.
1. The Course
Make sure to discuss the route one final time before the race begins. First-time anxiety (or simple race day jitters) may be a little overwhelming.
2. The Transition
During a kid's triathlon, the stage they are the most unfamiliar with is the transition. Making sure your child is comfortable with the concept helps ensure their success at this juncture.
It's recommended to arrive early to set up your child's transition area. Once the race begins, no one but volunteers and participants can enter the transition area.
Tri-Tip: during training, once you've introduced the combination of activities, practice transitions. Stage an area resembling the transition area at the race. Race day anxiety is reduced by helping your child master the transition.
3. The Finish
Even if you've set an after race meeting area, it may be a good idea to be close to the finish line.
Be prepared for any number of emotions mixed in with exhaustion. Giddy elation, frustration, disappointment, or a complete lack of emotion are all possible immediately following a kid triathlon.
The best thing a parent can do is allow whatever emotions to run their course. Just being there, not saying much, and definitely responding to any negative emotions will help frame the future for the next race.
Complete or Compete?
Of course, any child who wants to try a triathlon has a sense of competition brewing inside. But the first several they attempt should focus only on the completion. Here's how to maintain that sense of competition without losing the fun.
Have your child compete against his or her self. Set goals for each piece of the race.
Congratulate other participants
Attend awards ceremony
Practice healthy race recovery techniques.
What a great way to get your kids to eat their veggies! Explain to your kids that nutrition is a key to staying healthy during training. Who knows? They may even ask for a second helping of broccoli!
Ready, Set, Let' Do This
Fun for all and all for fun!
The concept of fun versus competition has been studied extensively. Research shows that there is "a direct correlation between a positive or negative sporting experience and attrition rate."
There are many organizations that offer kids triathlons across the country. Their focus is always safety, fitness, and rather than competition.
Has your child competed in a triathlon? Do you have any tips or suggestions you'd like to share? Please leave your advice in the comments below so every kid can have the best triathlon experience possible.