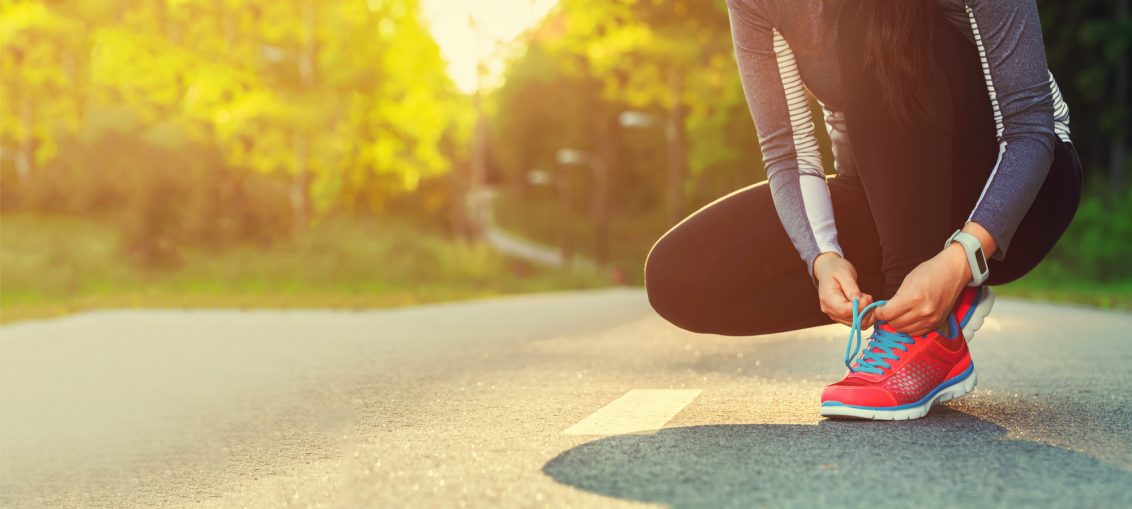 When it comes to running or jogging, every person has their own unique fitness goals, strengths, and limitations. That's why it's important to pick a pair of jogging shoes perfect for you and your needs. In this article, we're sharing our top 8 tips for finding the right jogging shoes for you.
8 Tips for Finding the Right Jogging Shoes for You
Whether you're a casual runner or a triathlete, having the right pair of running shoes is essential for comfort and success. Here are our 8 runner's tips for picking the right pair.
1. Go Half a Size Up from Your Normal Size
When it comes to jogging shoes, you should buy a pair that's between half and a whole size bigger than the shoes you wear on a day-to-day basis. There should be about a thumb's width of space between the top of your longest toe and the running shoe.
Why is this important? Well, when you run, your feet tend to slide forward in your shoes and your toes curl, so you need extra space to accommodate for that. If you do any long-distance running or triathlons, your feet can also swell from the strenuous activity, so having bigger shoes gives them more room in case that happens.
2. Find a Great Store Expert
A good shoe salesperson will find a shoe that fits you. A great shoe salesperson will sit down with you and take the time to determine what shoe option is best for you. So when you go shopping for new shoes, try to find a high-quality expert who can help you make an educated buying decision.
This person should ask you about running style and ask about any orthopedic problems you may have so they can make informed suggestions. They should also be able to offer you alternatives based on things like style and budget.
3. Bring Your Old Jogging Shoes with You
With so many jogging shoes out there, it can be hard to narrow down options. That's why you should bring your old or current running shoes with you to the store, so you can help the sales associate pick an option that meets your needs.
The sales associate will inspect your shoes to see how you distribute your weight and how your foot rolls. They may be able to tell you what you'll need in a new shoe and find options that will work best for your feet. And if you liked your old or current shoes, they can use that as a reference for picking out a similar pair.
4. Check Your Gait & Foot Type
Everyone has different feet, so it's important to know your gait and foot type when shopping for new running shoes. Your shoe salesperson should be able to analyze this at the store, but you can also download an app that will help with this. By determining your gait and foot type, you can make sure you get the feel, fit, support, and cushion you need from your shoes.
In general, there are three-foot types: flat, high arch, neutral.
Flat Feet
People with flat-feet are more susceptible to overpronation, which is an inward rolling motion. These people are more likely to get injured while running. So if you're flat-footed, you should look for high-stability shoe options.
High Arch
People with high arches are susceptible to under-pronation, which is an outward rolling motion. This also means they are more likely to get injured while running. The best shoe options for people with high arches are cushioned shoes with midsole padding and added flexibility.
Neutral Feet
If you have neutral feet, you have the most shoe options. That's because people with these feet do not over or under pronate. The best shoe options for this foot type are the ones that offer moderate stability.
5. Check the Flex Point of the Shoe
Before you buy a shoe, you should always check the flex point of it. You can check the flex point by pressing the tip of the shoe into the floor while holding the heel. If it has a properly aligned flex point, the shoe should bend and fold in harmony with how your foot flexes.
Checking the flex point of your shoe is essential for proper foot support. If your flex point is misaligned, you can develop arch pain. If the shoe lacks flexibility, you can develop Achilles-tendon or calf strain.
6. Determine Your Needs
Most running experts will tell you that you should have as many pairs of jogging shoes as the days you run a week. You don't want your feet to become too accustomed to one pair of running shoes and you should have different pairs of shoes for the different kinds of athletic activities you do. You have a higher chance of getting injured if your body becomes accustomed to the same movements.
If you're a city run, you should have neutral running shoes. If you run cross-country, you'll need trail shoes. And if you do speed or interval training, you should just get a lighter shoe with less cushioning.
7. Test the Shoe Out
Knowing your arch type or standing around in a shoe isn't enough to determine if a jogging shoe is right for you. You need to test the shoes to see if they match your foot's natural contours and movements. You can do this by taking the shoes for a quick jog, either on a store treadmill or on the sidewalk.
By testing it out, you can see if the arch support feels normal. If you feel your arch cramping, you should buy shoes that are less supportive.
8. Look for Substance
When it comes to buying running shoes, you should be looking for shoes that feel good rather than focusing on how they look. If you buy solely based on looks, you may end up going back to the store a few days later to return them due to discomfort.
It's also important to buy a pair of shoes that are high-quality so they'll last you longer. That means you should treat a pair of shoes as an investment and not worry too much about the price tag. Just keep in mind that you should be replacing your running shoes every 300 to 400 miles.
Final Thoughts on Jogging Shoes
Whether you're running a 5k, a half marathon, or just doing a quick jog around the neighborhood, you need running shoes that will provide the comfort and support you need. By following these 8 tips, you can find yourself the perfect pair.
What kind of runner are you? Did we miss any tips? Let us know in the comments!