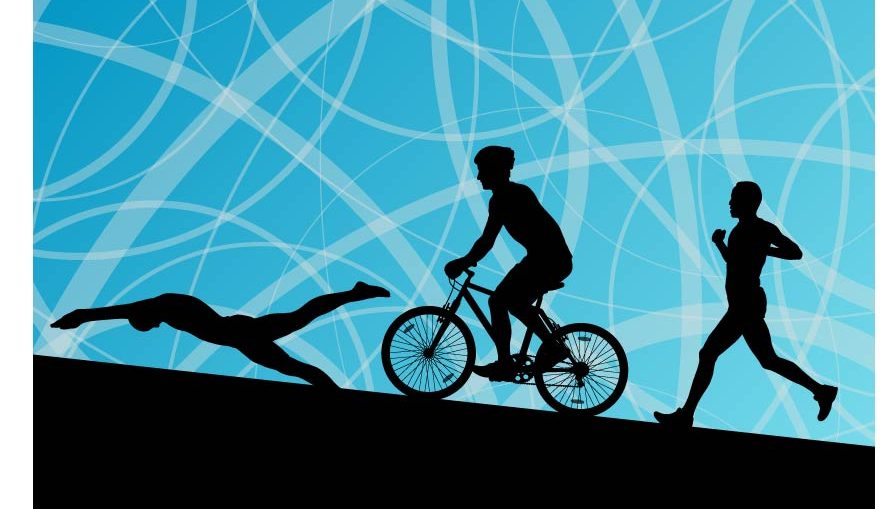 It's early in the morning; the smell of salt water fills the senses. Droves of fellow athletes are stretching on the water's edge. One final salute to the rising sun and it's time to begin a three-event adventure.
Thinking about tackling a triathlon?
Choosing a race that incorporates three challenging events is tediously awesome. Completing a swim, bike, and run in the same day is a feat that many attempt. However, many athletes are intimidated by the transitions between events.
With just a few tweaks, though, any athlete can successfully compete in a triathlon stress-free.
Check out some of these awesome hacks to mastering the triathlon transition.
Top 7 Triathlon Transition Tips And Tricks
Know The Course
Typically, beginning triathletes choose events close to home. This can be a huge advantage because of the opportunity to know the race area before the event begins.
Being familiar with the course is a great pre-race day planning strategy. Mentally knowing where each event transition will be located can make for a smooth race preparation. Being mentally prepared is just as important as being physically prepared for a triathlon.
Get a look at the swim launch area and be sure to evaluate the surrounding area. If the swim begins in the ocean, take note of any jetties, boardwalks, or any other protruding obstacle that may be part of the race course.
Also, check the water temperature. Months can be misleading when it comes to knowing the temperature of any body of water. Temperatures will dictate the type of swimwear that will be most applicable and most useful during the swim portion of the race. Appropriate swim attire is a huge attribute of making a successful triathlon transition between the water and the road events.
Pack Ahead
Just like planning for any major trip or event, don't leave packing until the last minute.
Pack the appropriate swimwear, as well as a backup option if anything were to happen to the first choice. Snags in swimwear fabric happen all the time. Don't be caught at an event with a swimsuit that could potentially validate disqualification or take on water and add more resistance.
Wearing a cap, goggles, or swimming ear plugs? Make sure doubles or triples are packed of each.
Check the bike.
If using bike straps, make sure they are tightened and secure to fit the shoes that are going to be worn during this portion of the event. If using clips, make sure there are no issues or broken metal that can inhibit a 'quick click' transition into the bike.
Another tip is to fill a water bottle (if choosing to use one) the night before and place on the bike. Go ahead and pack another two bottles so that hydration doesn't become an issue.
Have shoes ready and appropriately worn in.
Prepping equipment is one of the most important triathlon transition musts.
Bring Backups
This should validate very little discussion.
Always have a backup. Don't show up to the event without having backups. Pack an extra set of running/bike shoes, an extra swimsuit option, tools to fix or tweak the bike, and a handful of extra quick snacks and water bottles.
There may be no need for any of these things, but to show up without backups is an amateur move when competing in a triathlon.
Be Early
It's not a good idea to be fashionably late to a competition.
Not only will being late create feelings of stress, but it may lead to missing an important aspect of the registration/sign-in process.
Don't draw attention by being late. Draw attention by placing in the event.
Avoid The New
Many athletes have a tendency to believe in superstitions when preparing for an event. Some of these superstitions involve using old equipment, bringing special trinkets, or repeating certain mantras.
Of course, these superstitions are highly recommended to avoid. But, one thing can be said about using old equipment for a triathlon. One of the biggest kisses of triathlon death is using a new pair of anything. New shoes, new equipment (bikes, pedals, clips, straps, etc), and new competition outfits and/or swimwear should never be debuted on the day of the race.
No one wants to deal with unnecessary chaffing or discomfort during a race. These types of easily avoided nuances can ensure no holdups during the triathlon transitions.
The Right Gear
Tons of new athletes to the sport of triathlon can easily be lured by all the different gear needed for the event. However, much of this gear isn't always needed.
There's a huge difference between a sprint triathlon and a distance triathlon. The same is true when it comes to the gear needed for each.
Training for a sprint event? The right gear will be things that are aimed at streamlining transitions. The shoes will be the greatest asset in streamlining a sprint triathlon transition. Choose pedal straps instead of clips and thinner, lighter running shoes. The combination of the straps and the shoes will minimize transition time between the bike and the run. Eliminating the need to change shoes between events will greatly reduce both time and stress.
Prepping for a distance event? Triathalon transition protocol will be a bit different. There will be a bit more necessary to have separate equipment for each of the events. Longer bike rides may validate the need for specific bike shoes and clips versus straps. Longer runs may validate the need for more cushioning and/or more support for pronators and even neutral runners.
Regardless of the triathlon length, the right gear needs to be chosen and worn to ensure a smooth race.
Crossing The Finish Line
Competing in a triathlon is an incredible feat and an amazing feeling.
However, just because there are a handful of events nicely wrapped into one event shouldn't be grounds to deter athletes from participation. So long as a few tips, tricks, and race-day hacks are followed – the event and each of the triathlon transitions do not have to induce any unneeded stress.
Mentally and physically prepare for the race by ensuring that appropriate equipment is packed, the triathlon course has been explored, and the spirit of competition remains strong in the heart.
Get out there and tri something new!