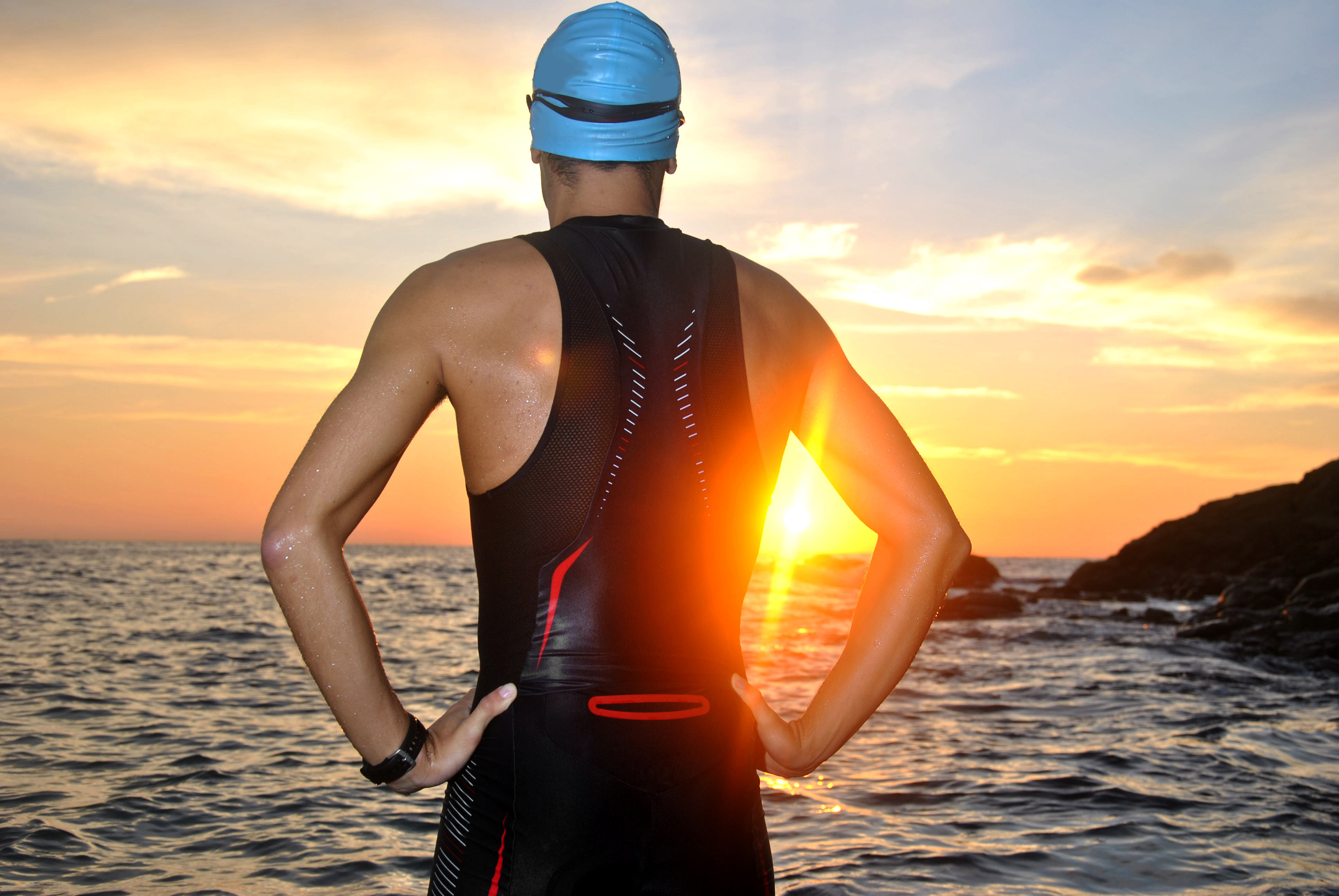 Are you preparing for your first triathlon?
You're not the only one – research shows that triathlons have been steadily growing in popularity for years.
If you want to be in with the best chance of beating the competition, you need to invest in the right kit.
To help out, we're listing seven essential triathlon accessories – the things you really shouldn't compete without.
Ready to smash your first race?
Let's do this.
1. Waterproof Triathlon Watch
Having a triathlon watch is the best way to monitor your performance and adjust your speed as needed.
It's a handy companion that lets you know if you need to speed up, slow down, or maintain a steady pace.
Since you'll be swimming, investing in a waterproof watch is non-negotiable – you don't want to waste time taking a watch on and off before and after your swim.
You watch won't only be helpful during the race, it will also come in handy during your training, too. You'll be able to monitor your progress and make changes to your strategy as needed.
Invest in a good watch and it should last your entire triathlon career.
2. Neoprene Swimming Cap
Swimming in open water can come as a shock if you've been training in a pool, and a neoprene swimming cap will help you to stay comfortable.
Neoprene caps are made of a thicker material than regular silicone swimming caps, which helps keep your head warm as you swim. You'll also be more streamlined, allowing you to move faster and achieve the best possible time.
Look for a swimming can with a velcro chin strap to ensure that it stays securely in place during your swim.
3. Swimming Goggles
Swimming without goggles is no fun at all, particularly if you're in open water and close to other swimmers.
Getting repeatedly splashed by the people around you is unpleasant and will limit your vision.
Not being able to see properly could lead to you zig-zagging around and swimming further than you actually need to, which will reduce your overall time.
Wearing a quality pair of goggles means you'll have good visibility during the entire swim, no matter what position you're in.
Choose anti-fog goggles with UV protection to make sure you're prepared for all possible weather conditions.
4. Cycle Helmet
You won't be able to compete without a cycle helmet, so make sure it's top of your kit list.
Be sure to purchase your helmet well in advance of your first race, and practice using it as much as possible.
While the size and adjustment may seem perfect when you try the helmet on, you might realize that you need to make changes after you've actually cycled in it.
Taking time to practice ensures you can get the size and adjustment right before your first event – not mid-race.
Look for helmets with good ventilation and an aerodynamic design to ensure speed and comfort during your cycle.
5. Aero Bars
Are you still using regular, old-fashioned handlebars?
That's not the way to win your first triathlon!
Aero bars put you into a more aerodynamic position by forcing you to lower your body. They're standard on most triathlon bikes and can make a huge difference to your speed.
If your bike doesn't come with aero bars as standard, buy a clip-on set to attach yourself – that way you won't have wasted too much money if you decide they aren't for you.
If you like the feel of the aero bars and plan to compete regularly, it could be worth investing in a new bike which comes with them fitted as standard.
The shape of the bike will be optimized to complement the bars, so you should feel more comfortable than you would using clip-ons.
As always, make sure you practice with your new bars before competing. You won't do well in the race if you're struggling to get used to a strange new piece of equipment.
6. Portable Water Bottle
Staying hydrated is absolutely essential when taking part in strenuous physical activity, and a triathlon definitely counts.
Drinking enough water replaces what's lost when you sweat, helps regulate your body temperature, and keeps your joints moving easily.
If you don't drink enough you might suffer cramps, feel tired, or experience dizziness – not what you want during an intense race.
Carrying a portable water bottle means you aren't reliant on aid stations during the race, as these can run out of supplies or be further apart than expected.
Ideally, you'll pick a bottle with a handle that's easy to grip as you run.
You should also invest in several bottles to store on your bike – calculate how many you'll need based on the cycling distance before you begin the race.
You can have all the fancy triathlon accessories in the world, but they won't be much help if you neglect the basics, so don't forget water!
7. Sunglasses
What's the weather forecast for your triathlons?
Whether it's rain or shine, you need to invest in a good pair of sunglasses.
They'll protect your eyes from glare during while you're running and cycling, allowing you to gauge the best route and avoid slips and trips.
If you live somewhere with particularly changeable weather, it's worth investing in some photochromatic sunglasses. They'll change automatically according to the conditions, so the lenses will be shaded when the sun's out, and clear when it isn't.
This means your visibility won't be limited by dark glasses if it's not sunny, but your eyes will still be protected from dirt and debris.
Why Are Triathlon Accessories Important?
If you want to achieve your full potential in every race, you need to invest in the right triathlon accessories.
They'll increase your performance, protect you from hazards, increase your speed, and help you to monitor your performance.
Make a list of the triathlon accessories you'll need as early as possible – this gives you time to purchase and test everything before your race.
Want more tips for succeeding in triathlons, whether you're a complete beginner or you've been competing for years? Check out our website.