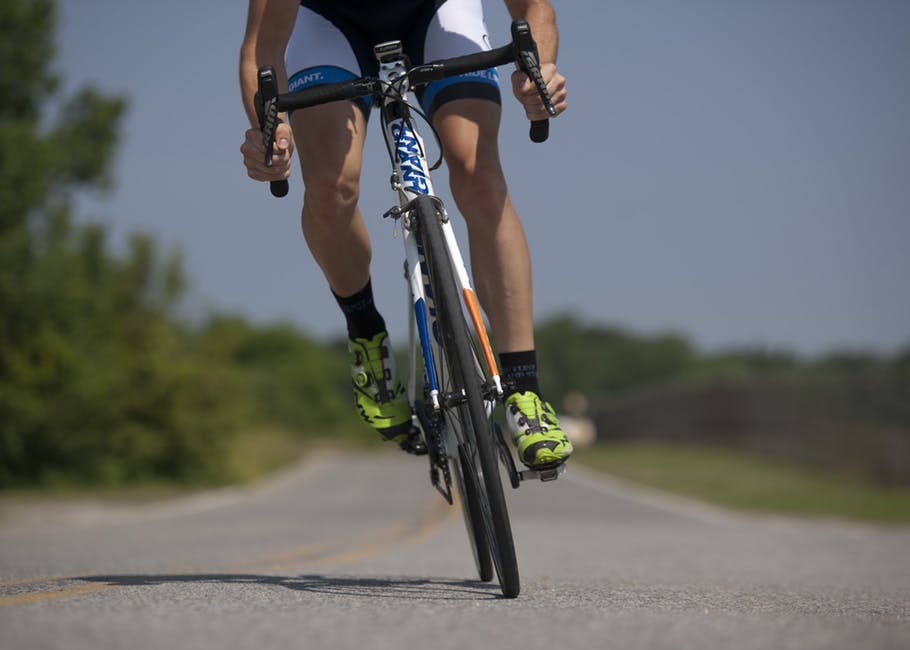 Is your triathlon biking time getting you down? Are you a triathlete who needs to rev up your bike leg? 
There are more than 4 million triathletes in the United States, but only a few elite athletes win medals in the sport. 
If you're looking for ways to improve your bike leg, this article's for you. We'll give you the inside scoop on how to slash your bike time. 
Get a Custom Fitting
The first step towards fixing your bike time is to get a custom fit on your bike. Triathlon bikes are much sturdier than regular bicycles and require professional attention for a perfect fit. 
All triathlon bikes are made with a carbon frame, and some even have room in the handlebars for your power bars. You're not going to get very far in a triathlon if you're using an aluminum bike. 
You're also going to need to invest in a good pair of pedals because most triathlon bikes don't have them included. 
Take the time and talk to your local bike store about getting a quality triathlon bike and having it custom fitted. If they don't carry triathlon bikes, they should be able to order you one. 
You don't have to order the most expensive bike, but you should invest in an entry level triathlon bike that will stay with you for several years. 
Train with a Group
If you want to speed up your bike time and start to win triathlons, it's essential to train with a group.
Every bike race you enter will have you jockeying for position with other riders, so you might as well get used to that energy.
The best way to train with a group is to find riders who are more experienced than you are. Learning to ride with faster bicyclists will help keep you motivated and push you harder.
Some experts recommend riding your bike in winter weather, but that's not necessary. What is important, however, is to train on hills as much as possible and get used to cycling in a group. 
If you find a hill that's really challenging, you can keep riding it. You can bike to the top, coast down, and repeat the hill until you're not out of breath anymore. 
When you're riding with a group, make sure that you're riding on roads that are safe for bicyclists. Stick to daytime rides and make sure you bring energy drinks.
The most important part of training with a group is learning how to pass another rider safely. If you don't feel up to it right away, don't push yourself to try. 
Amp Up Your Home Gym
In addition to training in a group, you should focus on optimizing your home gym. Again, you don't have to get the most expensive gear, but there are a few things you'll need. 
Surprisingly, you can do a pretty intense workout with a kettlebell. Start with one that's about 20 pounds and build up from there. You can do squats, arm lifts, and sit-ups with a kettlebell and focus on your strength training. 
If you live in a flat area or somewhere that you can't take practice rides, invest in an indoor bicycle. Make sure that you switch up the resistance, though. 
Training on high resistance can build strength, but you want to develop your fast-twitch muscles as well.
You should focus on interval training and do a few sprints while resting for a few minutes in between. 
If you don't have the budget for a home gym, you can always use a resistance band to build your strength and flexibility. They're inexpensive and highly effective. 
You might find that taking a yoga or dance class helps you improve your bike leg as well. The price of these classes is often included in a gym membership.
Focus on Your Diet
Even if you buy the best triathlon bike in the world, you won't be able to ride it if you're out of shape. Take the time to review your diet every few months. 
The ideal training diet does vary from person to person, but in general, you'll need to make sure you're getting enough protein and carbs.
A low-carb diet might not be the ideal choice if you find you're getting dizzy during or after workouts. 
If you're just getting started with triathlon biking, it's tempting to buy every energy product on the market.
Energy chews and drinks can help you get through the last several miles of your 25-mile bike ride, but are you loading up on sugar in your off-hours?
Focus on fruits and vegetables that you like, and try switching from coffee to matcha green tea. It's got more antioxidants than coffee and gives you a more even boost of energy. 
Another great dietary choice is quinoa, an ancient grain that is high in protein and fiber. You can experiment with different food combinations until you find your ideal training diet. 
Skip the sugar and you could shave a few minutes off of your time. Regulate your caffeine intake and make sure you're getting enough sleep at night. 
More Ways to Improve Your Bike Leg
Ultimately, the best way to improve your bike leg is to take practice rides and train in your off hours. Get enough sleep and try to train in the same conditions you'll see during the triathlon.
If you can, try using small ankle weights when you take practice rides. You'll build your strength and feel light as a feather when you're riding in a race.
Swimming regularly is also a great idea. It's a great strength-builder and can help you develop the lean muscles you need to excel in the bike leg. 
On the day of your triathlon, try not to overeat. You don't want to make yourself uncomfortable during the race, so just have a small meal with moderate carbs. 
We have a wide range of articles for the serious triathlete, including tips on workouts and recommendations for gear. Come check out our blog and get yourself ready to race!