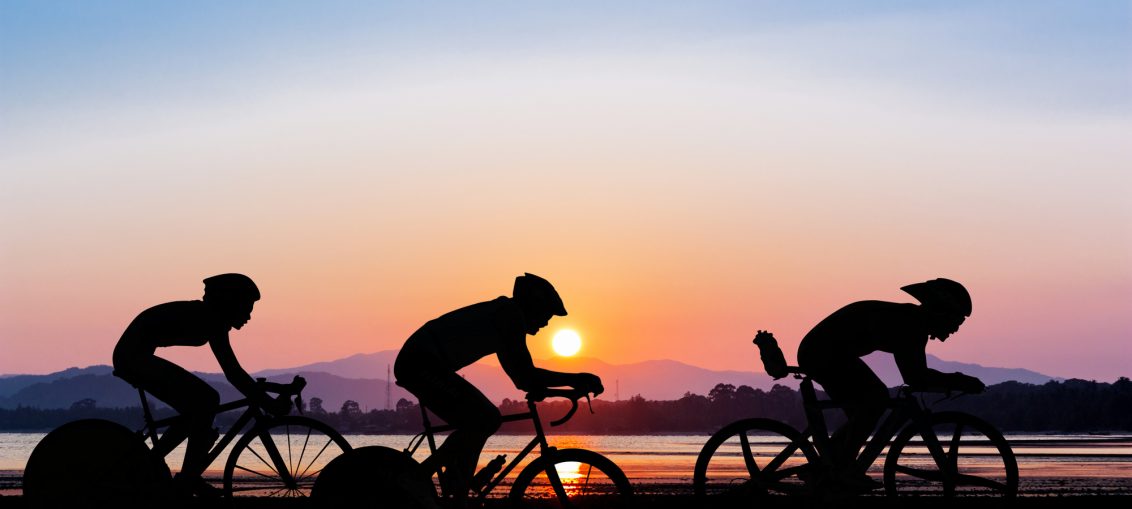 To be competitive in triathlons or cycling events you need to keep up with the cycling trends and advancements. Triathlons are becoming more popular, and because of this, cycling manufacturers are investing more in technological advancements.
Take advantage of these cycling trends by upgrading your equipment this year. You could look for a more aerodynamic frame, disk brakes, digital shifters, or an integrated cockpit.
1. Aerodynamics Are the Way to Go
Ever since the UCI put a minimum weight limit on race bicycles the trend by manufacturers is to make their lightest bikes more aerodynamic. The minimum weight limit is now 6.8 kg.
Last year at the Tour de France Giant debuted their new aerodynamic road bike. It is now being made available to the general public.
It's a first for the US bike manufacturer. Giant claims their bike has the highest stiffness-to-weight ratio in its class. It also has disk brakes that lower the drag coefficients.
Orbea has also come out with an aerodynamic bicycle that is faster than ever. Specialized Tarmac is also at the height of cycling trends with a new design.
The Tarmac has a new seat post and seat plus a D shaped frame. All of these features make it even more aerodynamic.
2. Disk Brakes Over Rim Brakes
Disk brakes used to be exclusively used on mountain bikes. This is changing quickly as cycling trends show pro cyclists using them more.
Currently, the disk brakes are being trialed by the pro riders. In the next coming years, you can expect to see them on standard road bikes available to the public.
Last year was the first year that someone won a stage of the Tour de France with a bike that had disc brakes. It was Marcel Kittel, a German pro cyclist.
You'll find that the higher end bikes coming out this year have disc brakes. Some of the bikes you'll find them on are the Trek Emonda, Giant Propel, and Scott Foil.
3. Gravel Grinders Are at the Top the Cycling Trends
Gravel grinders are road bikes that are designed to ride on a variety of surfaces such as asphalt, gravel, and dirt. You'll be able to traverse roads, smooth packed dirt, and roads with softball sized rocks.
Some features you'll find on gravel bikes are longer wheelbases, a more upright riding position, lower bottom brackets, and clearance for wider tires. There is debate over the difference in speed between the road bikes and gravel bikes.
4. Embrace the Width
The wheels on road bikes are getting wider. This is one of the cycling trends that gained popularity last year and has only continued into 2018.
You'll find that 25mm tires are the standard. Wheels that are 28mm are becoming more common.
The increased size of tires goes hand in hand with the growth in popularity of disk brakes. The disk brakes allow for greater clearance for the larger tires.
5. Power Meters for All!
Power meters are becoming accessible to all thanks to new technology and more manufacturers getting in the market. You'll need a power meter fitted to your bike to measure your power output as your pedal.
They function by measuring torque and combining it with angular velocity. Garmin is a popular manufacturer in that it measures each leg independently.
Shimano is a popular triathlon cycling shoe, but there is some debate on Shimano's power meter accuracy and effectiveness. Vector has hit the market strong with the more budget friendly power meter.
The Vector measures one leg and then doubles the output for the total power you are producing. It comes in at under $600, which is cheap compared to Shimano at $1,550.
6. Get Smart with Indoor Training
Sometimes you can't just train outside, and that is where indoor training comes into play. Wahoo Kickr Climb is revolutionizing indoor training by having the ability to simulate gade changes.
Wahoo Kickr allows you to increase the incline grade up to 20% and decrease it to -10%. This is the closest you'll come to simulating real-world roads on a stationary bike setup.
Other training apps are also growing in popularity such as Zwift or TrainerRoad. These apps let you train in virtual road races, structured workouts, and social group rides.
7. Frames for Mountain Bikes Are Changing
Mountain bike frames are also changing by having longer top tubes and more slack head angles. With the change in wheelbase, the offset forks are becoming shorter.
8. Digital Shifters Are The New Standard
Everyone is going digital these days. Both mountain and road bikes are now coming with digital shifting.
The industry prediction is that the digital shifters are just a passing cycling trend for mountain bikes. For road bikes, the digital shifters will remain a constant on the list of cycling trends.
For 2018 the digital shifters are mostly on the higher end models. In the years to come, it will start to spread to the lower end models.
9. Integrating Cockpits
Integrated cockpits eliminate the need for external cables and housing systems between the handlebars and rear axle. The streamlined system is more aerodynamic.
Traditionally, this system has been reserved for triathlon bicycles, but it has become more popular on road bikes. The positive of this trend is reduced drag and weight.
The negative of having an integrated cockpit is that if you want to make adjustments you'll have to replace the whole cable assembly. Adjustments that require full replacement include changing the length of your assembly or changing the bar angle.
10. Electric Bikes
There is a ton of debate over whether ebikes are cheating or not. No matter what side of the argument you fall on, you can't deny manufacturers are producing more models.
Ebikes are not a scooter or motorcycle, they look just like regular bicycles. You will pedal an ebike like a regular bicycle.
The difference is that you be helped to conquer obstacles such as hills and headwind. This will allow you to go further with less fatigue.
The ebike trend has become hugely popular for commuters. An ebike can travel at 15 miles per hour which is comparable to a car in city traffic at 18 miles per hour.
Upgrade Your Bicycle
Cycling manufacturers are integrating more and more technology into their bicycle. Now is the time to take advantage of the cycling trends.
Look for frames that are more aerodynamic. Disk brakes are becoming more mainstream. With the rise of disk brakes comes wider tires.
Gravel events becoming more popular. As such, gravel bikes are also becoming more mainstream.
Advanced technology is becoming more mainstream such as power meters, indoor training, and digital shifters. Even ebikes are slowly becoming more accepted in the cycling world.
Now that you have the cycling trends down, time to look for the right cycling attire.