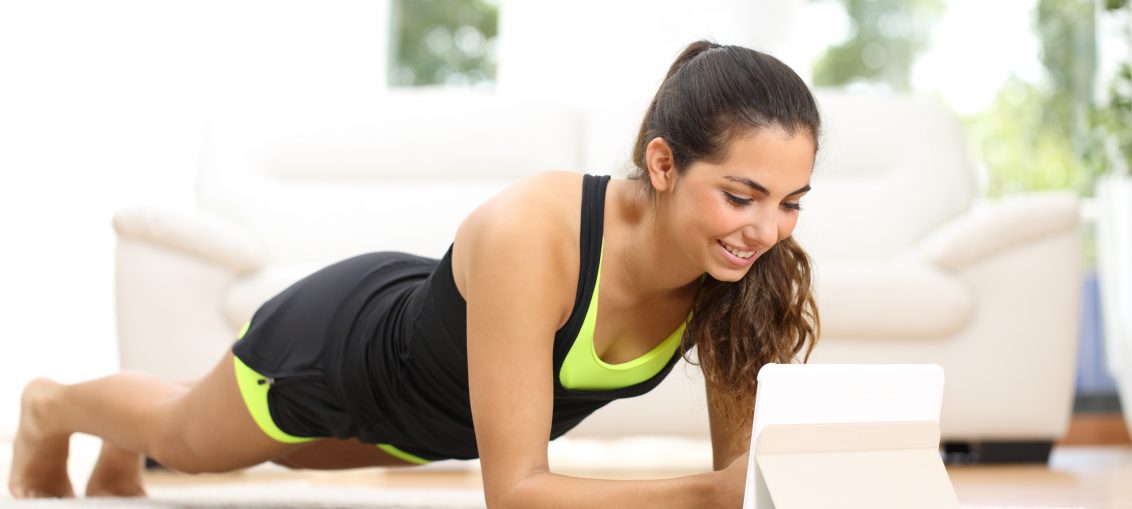 Losing weight and getting fit is a tough road to travel alone. That's why so many people wind up rebounding at some point and failing to reach their New Year's Resolutions. Don't worry, if you can't afford a personal trainer to keep you confident, there are fitness apps that work in a similar fashion.
Most of these powerful apps are free or can be had for less than the cost of a latte per month. The best part is that apps have evolved into highly-personalized and flexible programs. You can choose a jack-of-all-trades app or one that specializes in your favorite activities.
After years of testing and surveying for the best apps out there, we bring you our top picks.
Get ready, get set, and go download!
1. Map My Fitness
Free for both Androids and iOS devices, this app is perfect for anyone looking to walk, jog, or run to get fit. This isn't like fitness apps that just track your progress, it will give you a map of nearby running routes and paths.
The community of Map My Fitness is active and strong, tracking over 600 fitness activities and syncing them with GPS workouts. Users can participate in local challenges for all fitness levels. If you decide to support the app, you gain access to training programs and more detailed information.
2. Nike+ Training Club
Another great fitness app that is surprisingly free on both platforms, Nike+ Training Club is for everyone. It lets you pick which type of workout you want to do and splits them up into three skill levels for beginners, intermediates, and advanced users.
We love this app because it is easy to follow and hands-free. It will notify you of milestones or goals by sound. All the standard measurements and metrics apply and can be stored for easy tracking. Nike+ Training Club is also the workout partner to Nike+ Run Club, for those who are #TeamNike.
3. 8fit
We've been singing the praises of 8fit for weight-loss and conditioning for years.
Available for both Android and iOS for free, 8fit gives you everything you need for both activity and meal planning. It starts off with a simple fitness assessment to give you an accurate picture of your health.
Being fit is a personal journey, so 8fit custom-tailors everything to help you reach your goals. From dietary recommendations to workouts that challenge you based on your fitness level, this app will not let you feel stuck or indifferent like some fitness apps do.
The premium version will open up even more fine-tuning and personalized meal planning to make shopping easier.
4. Yoga Studio (Android, iOS: $3.99)
Not everyone prefers running on a treadmill or lifting weights to exercise, which is why yoga has exploded in popularity. Yoga Studio is a fitness app that brings the yoga instructor to your home. For only four bucks, on both platforms, you gain access to over 70 yoga classes, and you can stream them on Chromecast/Apple TV.
Yoga is literally for everyone, whether you want more core strength, endurance, dexterity, or stronger balance, Yoga Studio teaches you all the principles of yoga, and then some. Experienced yogis can find 300 poses and meditation classes.
5. Keelo
You can download Keelo for free on iOS. It's one of the most comprehensive HIIT fitness apps on the market.
What is HIIT, you ask. It stands for High Intensity Interval Training. This program combines strength training with cardio in a sustainable balance that promotes endurance and power.
Oh, and Keelo allows you to get your daily workout in about 10 minutes. It might sound a little intimidating at first, but HIIT is really forgiving and fun. Having an app that specializes in this form of exercise is extremely beneficial; call it order in chaos, if you will.
Track your progress and gain access to personal coaching, for only $12.99 a month.
6. Strava Running & Cycling
Are you looking for an app that lets you track cycling and running activities like a pro?
This is one of our favorite "achievement" fitness apps to use right now. Free for Android and iOS, Strava tracks your speed, distance, time spent, and allows you to compete with other athletes.
The trackers are built into a fun gaming format that spices up the usual beaten path and gives you milestones to break up the monotony. It will seamlessly integrate with all major fitness bands, as well as smartwatches. Upgrade to premium for more control over leaderboards and custom fitness goals.
If you feel like you're a little rusty and want to improve your speed, check out this helpful guide from the pros.
7. ACTIVEx Tabata and Spin Training
Gym rats, we didn't forget about you, either. There's an app that is tailored specifically for ellipticals and indoor cycles. This is basically your spin class on your phone. It works with both platforms and is free to try, more classes for premium users.
Tabata lets you personalize your cycling workout with your Spotify playlists, so you can be sweatin' to the 80's like the retro star that you are. Tabata is a no-nonsense app that just works. You can also use it for jogging or running, too.
8. 7 Minute Workout Challenge
Fitness apps often get overwhelming with options or plans to choose from. Well, this app for Android or iOS aims to eliminate the most common excuse for not trying. Anyone can do the 7 minute workout, the app shows you just how easy it is.
Yes, you may fail to complete the workouts when you start out, but your efforts don't go unnoticed. Your progress is tracked and rewarded for sticking with it. This is the perfect confidence-booster for anyone looking to change their lifestyle.
Succeeding with Fitness Apps
These apps may not yell "motivational" words at you or critique your form, but what they will do is help you be more accountable. Sometimes we are our own worse enemy when it comes to lifestyle changes. Technology is a great source of individual empowerment.
If you're looking for more ways to improve your workout routine, try reading our expert reviews and guides on fitness gear.